Can fish farming really be sustainable?
Mowi, the world's largest salmon farmer, came under fire in the Netflix documentary Seaspiracy. We recently spoke with the company's management to address the concerns that were raised and determine whether the company still merits a place in sustainable portfolios.
29/10/2021
Around 70% of our planet is covered by water, yet the United Nations Food and Agriculture organisation estimates that just 2% of the world's food supply comes currently from the sea. As the global population continues to grow, and is set to reach almost 10 billion by 2050, finding food sources that can sustain humanity healthily and within the environmental bounds of the planet will become ever more challenging. Fish and other seafood are likely to play an increasingly important role. 
This long-term demand outlook underpins our investment in Mowi, the world's largest salmon farming company. Within wealth management, we have held the company's shares in direct equity portfolios since 2019 and have exposure through third-party sustainability funds. It is also held in Schroders funds managed by our sustainability specialists.
Mowi came under the spotlight earlier in the year in the activist Netflix documentary Seaspiracy, which calls for an end to fish consumption. We still believe that Mowi can help meet the challenge of ensuring a sustainable global food supply, but we naturally wanted to better understand the criticisms raised by the documentary.
Positive impact on both people and planet
Salmon is widely recognised for its benefits to human health: it is low in saturated fat and a good source of protein, vitamin B12, potassium and other nutrients. It also has a far smaller environmental footprint than poultry or meat, producing less carbon and using less fresh water.    
Salmon is the most sustainable formed animal protein alternative 
 
Protein retention 
28%
37% 21% 13% Feed conversion ratio ("FCR")
1.3
1.9 3.9 8.0 Edible meat per 100 kg feed
56 kg
37 kg 19 kg 7 kg Carbon footprint (kg
CO
2
/ kg edible meat)
7.9 kg
6.2 kg 12.2 kg 39.0 kg Water conusmption (litre / kg/ edible meat)
2,0001)
4,000 6,000 15,400
Source: Mowi, Salmon Farming Industry Handbook 2021
Note: Protein retention is a measure of how much animal food protein is produced per unit of feed protein fed to the animal. The feed conversion ratio indicates the kilograms of feed needed to increase the animal's bodyweight by one kilogram.
We believe this is a competitive advantage for the industry, given that the current food and water system is responsible for around 25% of global greenhouse gas emissions. "A fundamental shift in how we produce and consume food – particularly protein – is needed if we are to keep global temperature increases below 2 degrees. This tough transition creates risks and opportunities for companies (and investors) across the food production value chain. Low carbon proteins have an important role to play," suggests Isabella Hervey-Bathurst, co-manager of the Schroder Global Climate Change Fund. 
What are the sustainability challenges ?
While the UN and others recognise that seafood plays an important role in food security, the sustainability challenges cannot be ignored. Seafood cannot be taken from the oceans indefinitely, and with 33% of wild-caught fisheries overexploited and another 60% already at capacity, demand clearly cannot be sustained by ocean fishing. Overfishing is just one undesirable consequence of mismanaging our ocean's resources: destructive fishing practices, IUU (illegal, unreported and unregulated) fishing, marine pollution and ocean acidification can all lead to ecosystem degradation, habitat and biodiversity loss. 
These challenges are addressed by one of the UN's Sustainable Development Goals, Life Below Water (SDG 14), which aims to "conserve and sustainably use the oceans, seas and marine resources for sustainable development".
Fish farming – or aquaculture – can offer a more sustainable approach. Many producers, including Mowi, farm in ocean water, but without depleting wild fish populations and the unsustainable practices that are often a feature of ocean fishing. However, the industry has also come under criticism – most recently in Seaspiracy.
World capture fisheries and aquaculture production 
Source: Food and Agriculture Organization of the United Nations, 2020
Addressing Seaspiracy's claims
We recently spoke with Mowi's Chief Sustainability Officer, Catarina Martins, to discuss the concerns raised by Seaspiracy and find out how the company is driving progress in environmental stewardship. Catarina is a member of the group's management team and has a strong scientific background, with a MSc in Marine Biology and a PhD in Animal Sciences. 
There were three issues in particular that we wanted to discuss – marine pollution, fish feed and sea lice.   
Firstly, Seaspiracy highlights the huge amount of "ghost gear" in fisheries and the subsequent plastic pollution. As Mowi is not involved in wild fishing, nets are not dragged around sea beds or lost at sea. In aquaculture, it is much easier to keep track of equipment. In Mowi's case, nets are tagged and can be traced. The company is also involved in recycling programmes to ensure nets are disposed of carefully, with nylon from the nets "upcycled" into carpets, socks and even swimwear. Mowi aims to reuse or recycle 100% of plastic farming equipment by 2023 – from 85% currently.
Secondly, Seaspiracy raised questions about the use of fish feed. The documentary claims the industry uses food colouring in its feed to make salmon more appealing for consumers. Catarina explained that this is not the case. Though salmon does not produce the pink pigmentation by itself, it is part of its natural diet and is beneficial to its growth and health. Wild salmon's pink colour comes from eating crustaceans, krill and algae which all contain this pigment. Farmed salmon need good quality food that provides these nutrients, including the pigment. It is not added for cosmetic appeal.
The processes and raw materials involved in producing feed mean it is the industry's largest source of greenhouse gas emissions. Mowi aims to reduce total emissions by 35% by 2030 and 72% by 2050 so looking at emissions throughout its whole supply chain, including feed, will be important. Soy is now one of the key constituents of Mowi's feed. The company has committed to using only deforestation-free soy, significantly reducing the emissions associated with it. 
Development of raw material in salmon feed in Norway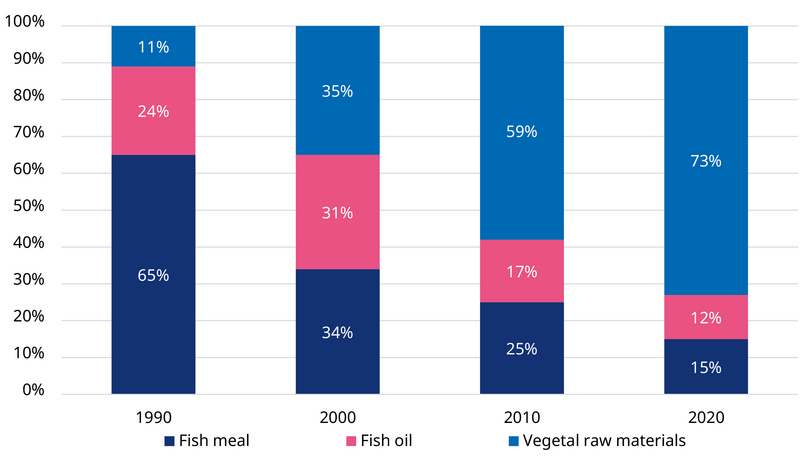 Source: Mowi, Salmon Farming Industry Handbook 2021
Historically, the industry relied on wild-caught fish to make fish meal and fish oil (FMFO), further adding to the strain on ocean fish populations. Encouragingly, the industry is moving away from the use of FMFO as a source of feed: it made up 27% of feed in 2020, compared to 89% in 1990. Any fish used to make this feed source must now be certified as sustainable according to the Marine Stewardship Council (MSC) standard and/or Marine Trust certification.
Mowi is constantly innovating in its use of feed, testing novel sources such as algae oil and insects. While these are not viable options at the moment due to scalability, price, climate footprint and nutritional factors, the company continues to explore alternative options.
Seaspiracy also pointed out the prevalence of sea lice in fish farming, with disturbing footage showing the unpleasant impact of the disease. In reality, sea lice exist both in wild fish populations and on fish farms. Regulators set strict limits on sea lice in farmed areas, recognising that effective sea lice management is important for fish welfare.
Mowi told us that they use non-medicinal treatment where possible in order to minimise pollution and the impact on non-target species. The company's reliance on medicinal treatment has greatly reduced. In 2020, 64% of treatments were non-medicinal - including water jets and lasers - compared with 12% in 2015. Any medicinal treatment has a thorough environmental impact assessment before it is approved by regulators. Tarpaulin is used to enclose the nets when administering medicine in order to contain it.
Beyond fish?
We asked Mowi about the potentially disruptive idea of plant-based seafood. Plant-based meat, produced by companies such as Beyond Meat and Impossible Foods, is emerging as a real competitor to meat and poultry. Could the salmon faming industry be facing a similar threat? When speaking to Catarina, some important differences emerged. Plant-based seafood tends to be more processed with a focus on replicating the texture and taste of fish. However, it is difficult to incorporate the protein, Omega-3, iodine and vitamins that are naturally found in salmon. Therefore, from a nutritional point of view this would not be an equal replacement.
We suspect innovation will continue in this space over the coming years. "We are particularly interested in the long term growth outlooks for both plant-based meats and fish," notes Isabella Hervey-Bathurst. 
The intention of fish farming was never to impact the environment, but rather to increase food security. Clearly, there has to be a balance between addressing the need for nutritional protein without exploiting the natural world today at the expense of tomorrow.  By monitoring, applying best practice and following the strictest environmental standards available for aquaculture, we believe that Mowi is well positioned to embrace the balance needed within a sustainable food system.
This article is for illustrative purposes only and not a recommendation to buy/sell. The views and opinions contained herein are those of the authors, and may not necessarily represent views expressed or reflected in other Cazenove Capital communications, strategies or funds.
Issued in the Channel Islands by Cazenove Capital which is part of the Schroders Group and is a trading name of Schroders (C.I.) Limited, licensed and regulated by the Guernsey Financial Services Commission for banking and investment business; and regulated by the Jersey Financial Services Commission. Nothing in this document should be deemed to constitute the provision of financial, investment or other professional advice in any way. Past performance is not a guide to future performance. The value of an investment and the income from it may go down as well as up and investors may not get back the amount originally invested. This document may include forward-looking statements that are based upon our current opinions, expectations and projections. We undertake no obligation to update or revise any forward-looking statements. Actual results could differ materially from those anticipated in the forward-looking statements. All data contained within this document is sourced from Cazenove Capital unless otherwise stated.
Topics
Sustainable food and water