Five doodles to explain climate investing in multi-asset
Our multi-asset investment team has drawn five doodles that help you understand how they think about climate investing.
08/06/2022
1. Sustainability is a two-way thing
All investors should consider the impact of the climate on their portfolio. But investors whose portfolios have a sustainability objective should go one step further. They should consider the impact their portfolio has on the climate.
2. How you measure climate alignment is no longer binary
In the past an asset was either "climate-aligned" or not; now climate-alignment is assessed on a more continuous scale.
3. Beware of pushing portfolios too far too fast
Improving the climate credentials of your portfolio too much too fast could result in higher investment risk relative to a benchmark. Understanding where those limits are is important for building a portfolio that meets both investment and climate goals. Some climate improvement is 'free'; it doesn't compromise the portfolio's investment objectives.
4. The trajectory certainly won't be a straight line, and faster is not necessarily better
The decarbonisation trajectory of a portfolio will not be a straight line. A faster trajectory is not necessarily better, since improvements to the portfolio do not necessarily mean improvements to the climate (see doodle 1). In the doodle below, "today's improvements" are those "free" improvements we mentioned in the one above. But the vast majority of climate improvement will come through time.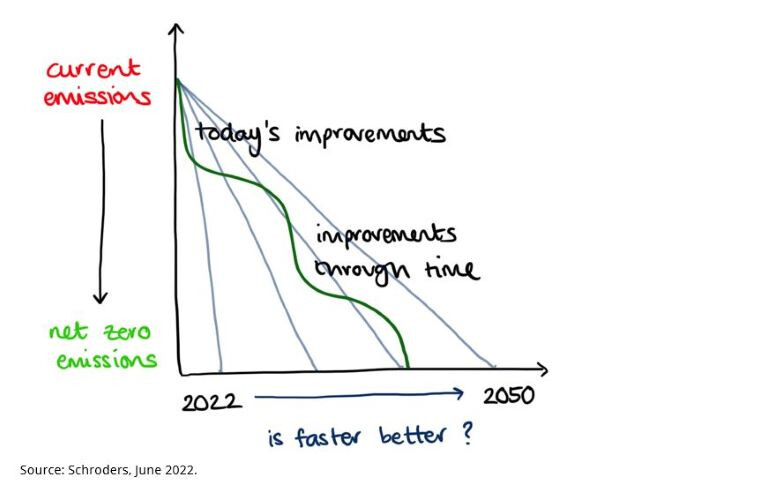 5. Investors have three main tools to meet their climate goals
Our 'climate distribution' of investments highlights three tools investors have to meet their climate goals. Avoiding assets with the very worst climate credentials, pursuing those assets with the very best climate credentials, and encouraging all other assets to improve.
Issued in the Channel Islands by Cazenove Capital which is part of the Schroders Group and is a trading name of Schroders (C.I.) Limited, licensed and regulated by the Guernsey Financial Services Commission for banking and investment business; and regulated by the Jersey Financial Services Commission. Nothing in this document should be deemed to constitute the provision of financial, investment or other professional advice in any way. Past performance is not a guide to future performance. The value of an investment and the income from it may go down as well as up and investors may not get back the amount originally invested. This document may include forward-looking statements that are based upon our current opinions, expectations and projections. We undertake no obligation to update or revise any forward-looking statements. Actual results could differ materially from those anticipated in the forward-looking statements. All data contained within this document is sourced from Cazenove Capital unless otherwise stated.